Keep It Dry and Clean with Breefer-Tee™️ The Only T-Shirt That Never Gets Dirty
Are you looking for a tee that never gets dirty, wet or loses it's color? Well you've come to the right place. With the waterproof/ dirt-proof Breefer-Tee™️ you can stay dry and clean from any clumsy mishap, leaving your shirt without a spot and keeping it's lush appearance all day.
Made with stretchy and breathable fibres, that repels any dirt and liquids. Comfortable to wear and impossible to mess up, what more could you want?
Repels even dark tinted liquids and particles such as coffee, fruit juice and even mud stains. You can rock the Breefer-Tee when you're cooking, painting or outdoors camping, working etc. It's a perfect all-in-one solution.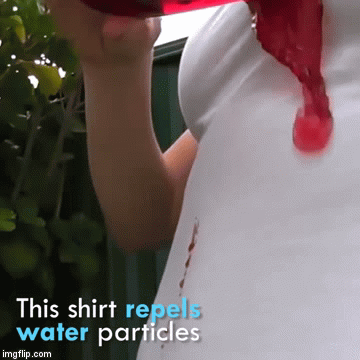 • Comfortable stretch for a perfect fit
• 100% stain resistant, even on the toughest of mishaps
• 100% waterproof, even on the toughest of liquids
• Multi-use everyday wear, outdoor hobbies and casual/ formal
• DO NOT USE regular detergent. Machine 30° or cold hand RINSE only!
✉ Questions about the fit? Email Us
SHIPPING: 
UK 3-6 Days
Outside UK 10 Days
FIVE KEY REASONS TO BUY FROM US
• 5 Star Reviews From Happy Customers
• 30-Day Money Back Guarantee
• Free International Shipping, No Fees or Taxes
• Dedicated and Helpful Customer Service
• PayPal Verified Merchant 
• Choice of 5 Payment Methods